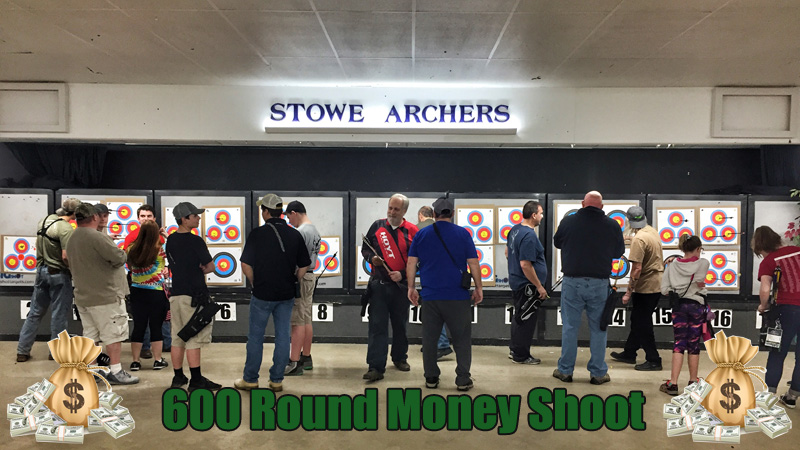 On Saturday, March 17th and Sunday, March 18th – Stowe Archers will be hosting a 600 Round Money Shoot. The event will consist of two lines – Barebow and Compound (Unlimited). Each line will be limited to the first 32 Archers to register.
Payouts will be determined by attendance – The more shooters we have, the more places we can pay!
Barebow:
Barebow restrictions will follow those set by the 2018 Lancaster Classic – with one exception. Maximum arrow diameter allowed is 27/64.
Barebow follows World Archery rules; allows a recurve or longbow shooting with a rest and plunger. String walking is permitted. No bow mounted clickers or draw checks. No stabilizers are permitted but riser mounted weights are permitted so long as the bow with all legal accessories fits thru a 12.2cm WA/USAA Judge's ring
Compound:
This is an Open / Freestyle Division with an arrow diameter restriction of 27/64. Olympic Recurves (with sights and stabilizers) are welcome.
Fees and Payouts:
The registration fee for this event is $25 per archer. $10 of the fee will go to the club while the remaining $15 will go into the prize pot.
Payout will be determined by attendance in each division. In the event that a division has 24 or more shooters, we will shoot a 300 Round Flight to determine payouts. Flights will take place 60 minutes after the 600 Round has concluded.
Updates:
Please check back for updates on attendance and projected payouts based on pre-registration
Open Pre-Registration in New Window