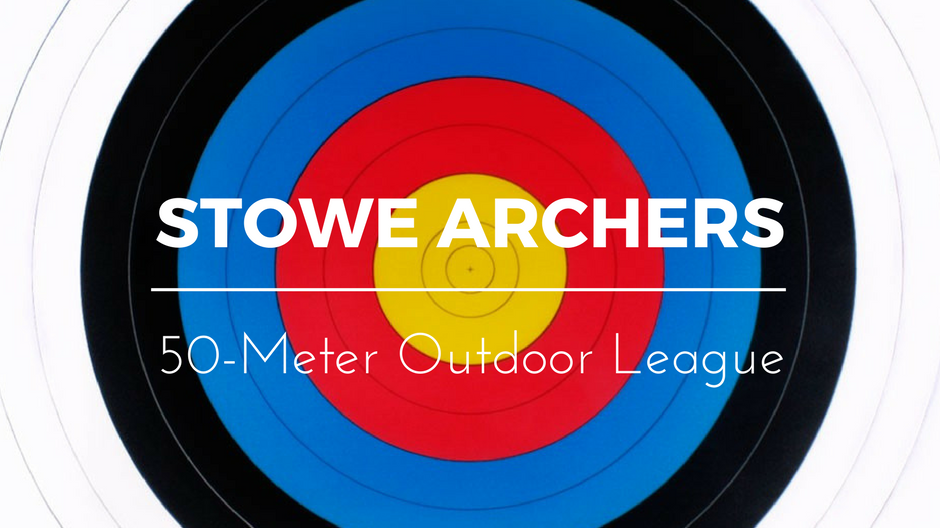 Early in 2017, one of our members approached the club with a question. "My Child participates in JOAD and would like to shoot in some sort of 50-Meter Outdoor League. Could we run one here at Stowe?".
With several JOAD shooters on our membership roll, we were happy to expand and offer a new league geared towards the shooting that they do during the outdoor season.
Starting the week of April 23rd
Stowe Archers will be hosting a 50-Meter FITA Style League.
Format:
The 50-Meter League will be made up of two-person teams (Up to four-person teams depending on signups). Each team will shoot head to head with other teams to earn points towards an eight-week season total.
A match will consist of 54 arrows broken down into 3 Games (3 Ends of 6 Arrows). The team with the most points after each game will earn a point. An additional point will be awarded to the team with the highest total score.
All Divisions will shoot from a distance of 50-Meters with the exception of children under the age of 13. They will have the option to shoot at 30-Meters if they prefer.
Individuals will be given a running handicap based on their division and previous three scores.
Handicap Percentages
Unlimited Division (UNL): 75%
Bowhunter Division (BHTR): 80%
Olympic Recurve (OR): 85%
Barebow (BB): 90%
Traditional (TRAD): 92%
Cost:
League dues can be paid either week to week or in full at the start of the season. Discounts will be given to those that pay in full. An additional discount will be given to those shooting both the 50-Meter League and the Field League.
Adults: $6 per Week ($50 Paid in Full)
Youth: $4 per Week ($35 Paid in Full)
Adults – 50-Meter AND Field: $80 Paid in Full
Youth – 50-Meter AND Field: $50 Paid in Full
Championship:
Any team that has shot at least 6 Weeks worth of scores will be invited to shoot in our League Championship. Our Championship will be a Shoot-Up Style Tournament.
The League Championship is meant to be laid back and fun. Please feel free to invite your family members along to cheer for your team. We'll have ourselves a little cook-out with hamburgers, hot dogs, and soft-drinks.
The Championship will be held on
DATE AND TIME TO BE DETERMINED
League Scores:
Scorecards and dues will be picked up from the club once per week on Monday afternoons. Scores will then be entered and an email update will be sent out notifying participants of updated standings.
Any Score Cards missing at the time of pick will be entered as a zero. Please make sure to turn scorecards in on time or make sure that you have a Pool Score on file.
Open in New Window
Sign-Up to Shoot
Open in the New Window