Welcome to the Stowe Archers Indoor 450 League Page!
Every year, starting the first full week of January, Stowe Archers kicks off our Winter Indoor Leagues – among them is our 450 Vegas Style Spot League. We get all types shooting our league, from those that want to fling arrows and socialize to those that are honing their skills for competition. No matter your skill level, we have a spot for you!
The league runs for twelve-weeks and takes place on Tuesday Evenings. This includes 1 Group Pool Score (Our First Week), 9 Weeks of Competition, and our Championship Shoot-Up. We start shooting at 7:00pm and are usually finished up around 9:00pm.
Our 450 League is Open to the Public and is Kid Friendly
Registration
Club Members: $10 per Week ($100 Paid in Full)
Non-Members: $12 per Week ($120 Paid in Full)
Youth: $6 per Week ($60 Paid in Full)
Results
Open Results in a New Window
Past 450 League Champions
This slideshow requires JavaScript.
League Rules and Information
The Stowe Archers Indoor 450 League is all about spending time with other archers and enjoying a bit of friendly competition. The rules listed below are an attempt at keeping things fair and giving everyone a shot at winning.
With that said, this is a Handicap League. This means that all archers, regardless of their skill level, will be assigned a Handicap Percentage which is meant to improve their scores and make them more competitive. Handicaps are based on equipment and are broken down as follows.
Handicapping
(UNL) Unlimited: 75%

Unlimited pretty much says it all – 'Run what cha' brung!'

(BHTR) Bowhunter: 80%

The limitations on Bowhunter Class are that stabilizers may not extend more than 12″ from the riser and magnified sights are not permitted. Adjustable sights and verifiers are fine.

(OR) Olympic Recurve: 85%

Think of this as Unlimited Division for Recurves. Sights, Clickers, and Stabilizers are permitted (No Peep Sights).

(BB) Bare Bow: 90%

Bare Bow is any Compound or Recruve shot without a sight, clicker, or mechanical release. Stabilizer length is limited to 12″.

(TRAD) Traditional: 92%

Any Recurve or Long Bow shot off the shelf. No Stabilizers, Sights, or Elevated Rests permitted.
Scoring
New for 2018, we are going to be using Inner 10 / FITA-Style Scoring. For those shooting Recurve and Long Bow Classes, there will be no change in the way scoring works. For Compound archers, this may take a little getting used to. Essentially, what happens is we remove the traditional 10-Ring from play. The center X-Ring is worth 10 points – all of the other yellow rings are scored as 9 points.
As we've seen in our Drop-In Money League, this will cause the average compound score to fall. At the same time, since everyone else gets the Big-Ten Ring, scores between the two styles of shooting will come closer together. With a handicap, we expect matches to be rather close – making for fun and exciting head-to-head matchups.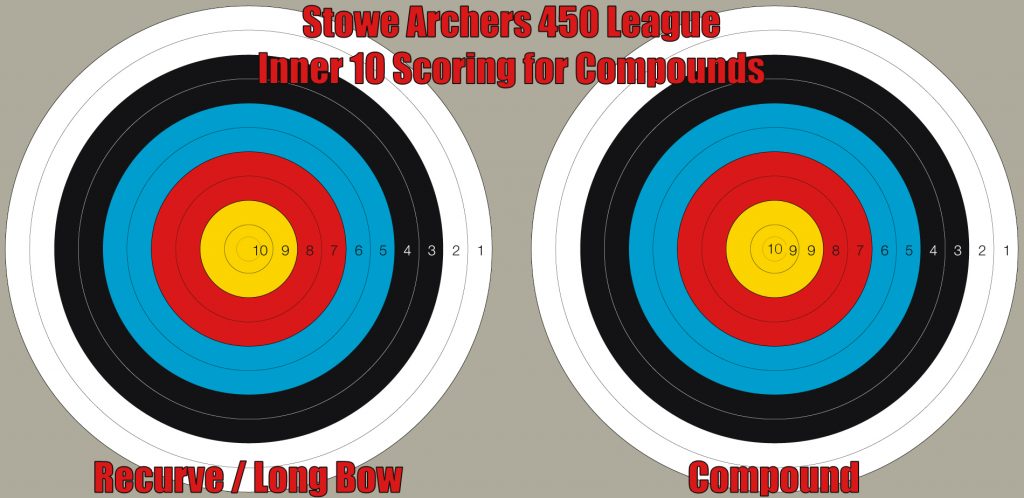 Attendance and Results
Speaking on a personal note, the one thing that sucks the fun out of this league is when one of your teammates doesn't show up on league night. We realize that family is more important and things come up that interfere with archery. Because we realize this, we try and accommodate archers by using Pool Scores.
A Pool Score is basically a score that has been shot in advance and banked for a later date. We shoot our first pool score together, as a group, during the first week of leagues. A second pool score is highly recommended and shooters are encouraged to shoot it on their own.
Additional Pool Scores may be turned in at any time, however, they must be accompanied by payment (unless you are Paid In Full – in which case pool scores are free). At the end of the night, when scorecards are collected, any missing scores will be treated as a zero (unless you have a Pool Score which was paid for).
Once scores are in, results will be updated on this page within a day or two. We will also send out a weekly email which will include results, standings, and any other pertinent information.